Website & Application
Development
Each day, more and more companies are discovering the benefits of marketing their brands through websites, apps, and even social media. The rise of these platforms have impacted different consumer movements that continue to push sales and influence altogether. And this is the type of influence that no brand, a startup or not, should ignore. Let CTS help leverage and develop your brand through strategies that not only translate to a wider audience, but melds your vision with a marketing plan that actually works. Through our broad spectrum of services, you'll be sure to have your business up and running in no time!.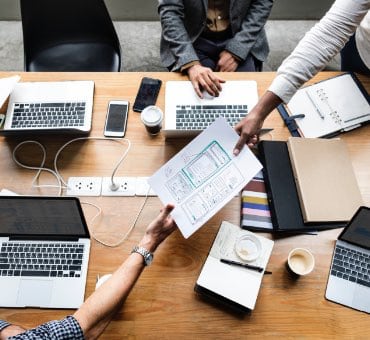 Ingenious Website Design and Development
THEM: Do surprisingly low rates, creative (yet buggy) website layouts, and a long list of customer support-related promises ring a bell? Most of our customers have been promised the same thing by all these low-cost website providers only for them to regret the decision altogether and seek better, professional help in the end. And we've met LOTS of these people before. Each one with a different business, a different story, but the same kind of issue with their previous web service provider. And we want to change that.
US: Here at CTS, we understand the logic behind every successful website. What we build and maintain at CTS are websites that not only look great with impressive UX / UI design at one glance, but rank high in the SERPs (Search Engine Results Pages) and generate higher conversion rates (from visitor to customer) as well. We make sure that your website addresses your customers' every need and that it communicates your brand to your audience effectively. And here at CTS, we don't over-promise. We deliver.
Strategic Brand Creation
THEM: Some web service providers create websites that are guilty of having a logo that's too generic, distracting layout designs, a tidal wave of content, and non-mobile-friendly features and it gets worse when SEO seemed to have been off the table from the very start. Businesses that invest less in their websites are often the target of these companies. They create a cookie cutter type of branding strategy and apply it to all their clients, making it difficult for businesses to gain better market visibility. Instead of having a website that converts their visitors into paying customers, they get a standard website that looks the same as everyone else's, simply exists, and ranks for almost nothing.
US: Creating a brand is not as simple as it seems. Successful entrepreneurs don't just sit in a cafe somewhere, develop a 1-page business plan, doodle a logo, and look around on Fiverr to see someone who can make that logo sketch come to life. Rather than branding being the entirety of the whole conceptualization process, this is is just the first step. And with CTS, you'll never have to do it alone. Our team of creative branding specialists will help you envision and design your brand into something that suits your industry's potential and wins the favor of your patrons.
Intuitive Content Management
THEM: Graphics that look like they were designed in the early 2000s, cluttered web page sections, slow page loading, content that is either too short or irrelevant, and images that have strayed from the brand's concept are just some of the many alarming things we notice when we check our clients' poorly performing websites. But we're not surprised. Some businesses choose to try out cheap branding alternatives and unfortunately, the end result just gives them more to work and spend on.
US: CTS' Content Specialists understand how crucial good content is for every website we handle. We treat every content with the same laser focus that we use to achieve success with the other aspects of our clients' websites. Every content we curate for your website is strategically planned to fit your standards and align with your brand's concept effectively.
Below is a sample of websites that we've designed, developed and/or currently providing SEO services on: