Data Center
Your company's data assets are just as valuable as any building block that make up the success of your business. And because of this, it's vital for every company to establish efforts in guarding their data against cybercrime, fraud, and hacking. It's no question that maintaining your own data can be costly and time consuming. And, it can be more difficult to maintain when you have limited manpower or space. But by outsourcing your data management to respectable data centers such as CTS, you free up more time in your schedule to focus on other similarly important aspects of your business.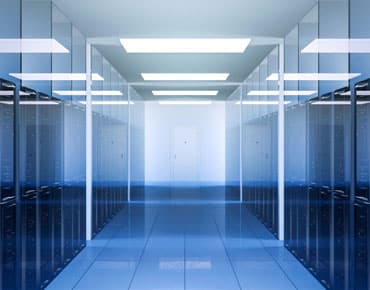 Protecting your data assets every step of the way
Entrusting your data to data centers like CTS may seem daunting the first time, but the more you become open to our trustworthy data hosting services, the more you're getting ahead of the race. We understand that keeping your data secure is a priority and can be risky to handle on your own. At CTS, we make sure to handle your data as if it were our own with different services and applications that can help increase protection as well as its resilience.
Secure and modern network infrastructure
With the help of our team of seasoned experts, our systems have matured into a powerful infrastructure that helps secure data efficiently and ethically. Because of our team's efforts, our clients are consistently satisfied and assured that their data is in good, professional hands. We make the extra leap towards keeping up with the latest technology, prioritizing the quality and speed of performance that then affects the way we serve you.
Resilient disaster recovery and migration services
Dealing with downtime, especially the unplanned ones, can be quite frustrating once they occur. And this doesn't only necessarily affect the people who make use of the data you've collected and stored, but the quality of service you give out as well. With so much at stake when systems are down, you risk many things including profits, time, and even your customers' trust. However inevitable these downtimes are, there are resolutions one may apply to make sure the after effects aren't too severe. With CTS' Disaster Recovery and Migration Services, you never have to worry about your systems becoming vulnerable to attacks and downtimes, our team of experts will resolve the issues and update you in no time before and after its recovery.
Quality hosting performance
It's a dream for most companies to find a data center service provider that's transparent, proactive, and customer-centric. They're also quite keen on finding a service that can provide them with a sense of trust brought on by the stability of their security protocols, technologies, and even the experts they bring into the whole process. While that's a dream for most companies, CTS' clients are living the dream. Our team of professionals make it their goal to satisfy every need imaginable through constant improvements on infrastructures, systems, and efficiency methods. With our services, there's always a guarantee that you're getting the best work done on your IT and data assets on a daily basis.
CTS can help you keep your sensitive data secure, as well as providing consultation for optimal upkeep and regulation of your data for compliance and to minimize security risks that may lead to any harmful data breaches. Contact Us today to find out how we can help your business.