Cloud Services
Cloud computing is a practical approach to create efficient workflow systems. Cloud technologies can save you time, effort, and money. And it elevates your business to the digital era. Computing Technology Solutions (CTS) has extensive experience in providing digital business strategies utilizing cloud computing. Get in touch with a CTS consultant to find out how cloud computing can boost your business.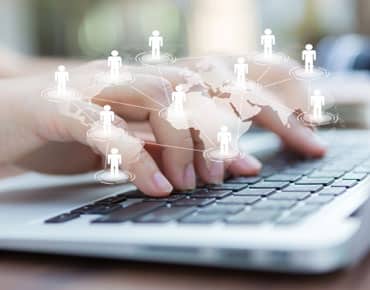 Cloud computing delivers hosted services over the internet, a.k.a. the "Cloud". These services have three categories:
Infrastructure as a service (IaaS)  – Provides cloud-based resources for data storage, access, and networking. Examples: Amazon Web Services and Google Compute Engine
Platform as a service (PaaS) – Offers online tools to build customized applications over the internet. Examples: AWS Elastic Beanstalk and Google App Engine
Software as a service (SaaS) – Uses the internet to make software available to its users. Examples: Office 365 and Dropbox
To help you learn more about cloud services and what it can do for you, here are some of its prime benefits:
Reduced operating costs
It can be costly to constantly buy data storage equipment and to maintain multiple servers and IT hardware which perform varied and separate functions. Because of this, it's highly recommended that companies use a unified, virtual system that maintains everything at peak level and cuts off the individual requirements that contribute to a majority of the costs incurred.
Flexibility and Mobility
Cloud-based services not only keeps all your controls in one place, it gives you the freedom to work from virtually anywhere. Business owners have the capability to access their systems anytime and anywhere. And not only can they access it from outside of the physical office, but some systems also allow secure access even without a network connection through any type of device whether it's a PC, a tablet, or a laptop.
Secure operations
Here at CTS, we prioritize our clients' security and take it very seriously. Because of this, we would never recommend and install a virtual service we think isn't stable or can be accessed easily by cybercriminals. We create systems that have the capability of backing up and migrating data safely, no matter the issue. Our systems are also proven to have quick recoveries, unlike traditional systems that call for lengthy, planned downtimes in order to be fixed.
Expanded use for existing systems
Cloud-based solutions can integrate easily with the servers and machines you've previously used, eliminating the need for you to adjust and dispose of anything that you think might be outdated or no longer needed for the systems to be installed.
Cloud computing is a practical approach to create efficient workflow systems. It improves the engagement of your employees and customers to your services. It saves you time, effort, and money.  If you're ready to take your company to the next level, cloud computing is the way to go
.