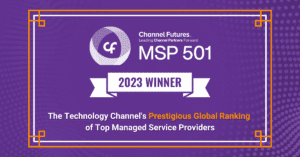 In a dynamic and ever-evolving technology landscape, Managed Service Providers (MSPs) play a crucial role in assisting businesses with their computing needs. MSPs not only provide technical support but also deliver strategic guidance, helping organizations leverage the power of technology to achieve their goals. The Channel Futures MSP 501 is an annual ranking that honors the top MSPs worldwide, and in 2023, Computing Technology Solutions (CTS) has earned a well-deserved place among this esteemed group of more than 150,000.
The MSP 501 is an initiative by Channel Futures, a leading source of technology news and analysis for the channel community. The prestigious list recognizes the world's most forward-thinking and innovative MSPs based on numerous factors, including EBITDA, annual and reoccurring revenue, growth rate, service offerings, and customer satisfaction. Being named one of the MSP 501 winners is a testament to CTS' exceptional performance and commitment to delivering exceptional IT solutions.
CTS has emerged as a key player in the managed services arena, consistently demonstrating its expertise and dedication to client success. The company has built a reputation for its comprehensive suite of services, which encompasses everything from infrastructure management, to cybersecurity solutions, to website and application design, development, and ongoing content management.
One of the key reasons for CTS' recognition is its ability to stay ahead of technological trends. With an experienced team of professionals and a customer-centric approach, the company is well-equipped to address the evolving needs of its clients. By leveraging cutting-edge technologies and industry best practices, CTS empowers organizations to streamline their operations, enhance productivity, and achieve sustainable growth.
Furthermore, CTS' commitment to delivering exceptional customer experiences has set it apart from the competition. The company understands that technology is not just about hardware and software; it is about enabling businesses to thrive in an increasingly digital world. Through their unwavering dedication, technical prowess, personalized solutions, valued partners, and round-the-clock assistance, CTS ensures that its clients can focus on their core competencies while leaving their IT worries in capable hands.
Being recognized as one of the MSP 501 winners is not just a moment of celebration for CTS but also a validation of its expertise and commitment to excellence. This accolade serves as a testament to the company's ability to provide top-tier managed services and sets a benchmark for its future endeavors.
Moreover, the recognition from Channel Futures helps CTS differentiate itself in a crowded marketplace. As organizations increasingly rely on MSPs to navigate the complexities of technology, the MSP 501 recognition serves as a seal of trust for potential clients. It showcases CTS' capabilities and positions the company as a dependable partner in driving digital transformation and optimizing IT operations.
CTS' inclusion in the 2023 Channel Futures MSP 501 demonstrates its outstanding achievements as a leading managed service provider. Through its unwavering commitment to innovation, customer satisfaction, and technical expertise, the company has carved a niche for itself in the competitive landscape of managed services. This recognition not only highlights the remarkable success of CTS but also underscores the critical role that MSPs play in enabling organizations to thrive in the digital age.