We're all guilty of it. You see your friends or family posting incredibly enhanced portraits of themselves via some app and we rush to download it ourselves. Before long, we're uploading selfie after selfie, trying out every filter and setting. From blemish-free skin and silky hair to CGI-generated artwork using your own face, self-portrait apps are fun and highly shareable.
One of the most popular recent additions to the scene is Lensa AI, a digital image editing app. Data shows that the app now has over 25 million downloads, with users mostly drawn to its "Magical Avatars" feature,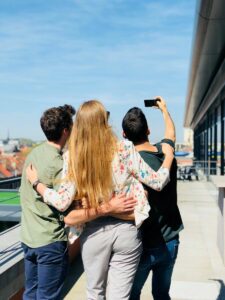 which went viral in 2022.  But Lensa and other similar apps pose a significant risk to data privacy. Before downloading such apps, it's worth reading our short guide below. We'll go over some of the privacy concerns apps like Lensa raise up and how you can protect yourself if you choose to use them.
What Are Portrait Apps?
Portrait apps are simply photo-editing suites designed to be used on mobile devices. They utilize filters and AI image generation to transform selfie photographs into unique, custom artworks, sometimes for a fee. Lensa, for example, uses the deep learning AI model called Stable Diffusion. This pulls elements from over 2 billion images found on the internet to transform your portrait based on your requirements.
Using the power of AI, portrait apps can give you a virtual makeover and more:
Enhance photographs: AI will analyze your photograph to automatically adjust the brightness, exposure, contrast, and color tone.
Professional look: simulated background bokeh and lighting can make even the most basic selfie look professional.
Filters: filters such as the Magical Avatars feature of Lensa can place you into truly impressive works of art. These can resemble the work of famous artists like Van Gogh and look truly convincing.
Remove unwanted objects/people: Lensa and other apps can remove anything unwanted from your photos, such as passers-by or an unfortunate skin blemish.
What's Wrong With Portrait Apps Like Lensa AI?
While this is all impressive, fun, and slightly addictive to use, there's some pretty serious privacy concerns regarding portrait apps.
Facial recognition
One of the most worrying issues is the repeated uploading of our faces to a third party. Facial recognition is fast becoming the go-to security biometric for smartphones as a way to prove our identity. While the company behind Lensa (Prisma Labs) claims user photos are only temporarily stored on their servers, this should still give us pause for thought. Each time we use such a portrait app, we run the risk of bad actors making use of our identity.
Activity tracking
Lensa AI is also capable of tracking your phone activity. Upon downloading the app, the Lensa app is capable of using unique identifiers to monitor your usage and activity. The most concerning thing is that such monitoring extends beyond Lensa itself to website browsing and other apps.
Data collection
In downloading Lensa, you are also agreeing for the app to scan and collect data from your phone or tablet. While most of the data collected is anonymous, some of the data is personally related to you, including your name, IP address, phone number, and the content you upload to the app. For many people, such data collection is alarming and an invasion of privacy, anonymized or not.
Image rights
Upon using the app, users are asked to agree to the Lensa AI Terms and Conditions. Your data, it claims, may be used " … for the purposes of operating or improving Lensa, you grant us a time-limited, revocable, non-exclusive, royalty-free, worldwide, fully-paid, transferable, sub-licensable license to use, reproduce, modify, distribute, create derivative works of your User content, without any additional compensation to you … " Such deliberately vague and overarching lingo is common in portrait apps and ultimately leaves the door open for interpretation. A critical interpretation could understand such language to mean your own likeness, and images could be used for commercial gain without your permission simply by using the app.
Copyright infringement
While portrait apps are meant to generate truly unique art, Lensa itself has found itself in hot water over using copyrighted material in stickers, filters, and some of the AI-generated content itself. The datasets of images used to "train" the AI to generate images are used without the artist's permission, angering many creators who now choose to opt out.
Data breaches
As with anything cloud-based, uploading your data and images to portrait apps runs the risk of a data breach. While Lensa AI and other apps may use "industry-standard security" to fend off attacks, no company is 100% safe from cyberattacks. With such sensitive biometric data and information uploaded through portrait apps, a data breach for such companies could be disastrous for many.
How To Protect Data Privacy
Keeping yourself safer when using selfie apps is quite easy. It involves assessing your own risk tolerance, changing your app-usage behavior a little, and adjusting a couple of settings on your device.
Resist downloading brand-new apps
While none of us want to be the one arriving late to the party, it can be prudent to wait a while before downloading any new viral app. It took a couple of weeks before the internet took apart Lensa AI's Terms and Conditions, and people really understood what was being done with their images. Similarly, any new upcoming portrait apps should be resisted for a week or two just in case anything negative is associated with it.
Actually read the terms and conditions
They're long and boring, but terms and conditions are no joke. Getting into the habit of actually reading these documents before using apps can save you from giving away information and photos for purposes you're not comfortable with.
 Avoid uploading sensitive images
Given that companies openly state uploaded content may be used to train and "operate" apps, it's wise only to upload images you're okay with sharing. Users should especially avoid uploading intimate or personal photos, which could cause a serious upset in the case of a data breach.
Adjust your privacy settings
You can easily stop apps like Lensa from tracking your activity by adjusting a few settings on your phone. On most phones, these settings can be found in the privacy and security section, where you will find an option to "turn off data sharing." Once turned off, apps like Lensa will not be able to track your activity beyond the app itself.
Request data deletion
If you decide to delete a portrait app and are concerned about what information and content is stored by a third party, you can request a data deletion.
For Lensa AI, this involves emailing [email protected], where you can state your concerns. Once deleted, you will not have to worry about data breaches or leaks simply by using a portrait app.
Conclusion
We all love cool apps, especially ones that can make us look great. The problem is apps like Lensa are privacy nightmares, with our photos and data constantly interacting with cloud services and servers. However, by remaining vigilant and denying apps permission to track our usage, we can limit the amount of data we share while we use them.
If you are concerned about any apps installed on your business devices, reach out to our President, Frank Stephens, or our Service Delivery Manager, Simon Jakubczak.