Online giving is nothing new. However, with the Covid-19 pandemic keeping us at home for months, our reliance on digital tools in everyday life made technology feel more real-life than ever before, and the same holds true for online charitable giving.
According to Fidelity Charitable, "nearly six-in-ten donors made a donation on a charity's website in 2020, and 18% said they did this more frequently than in the past.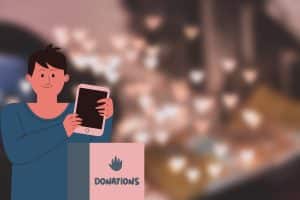 And a third turned to online resources to research a cause or organization, with 12% saying they did so more frequently in 2020."
So, how can you learn more about a charitable organization to decide if you would like to support it? A few resources to consider include:
Visit the website of the organization you are thinking of supporting. An organization's website should provide you enough insight to understand what it is they do and how they impact the community. The website should share stories of how they impact those they are serving in the community. Additionally, the website should allow you to feel connected to how your gift is going to make a difference. Annual reports or some level of statistical impact should be disclosed. And today most organizations provide an online giving option directly through their website.
Contact the organization to speak with their Executive Director or a member of their Philanthropy team. Better yet, ask for a tour. In talking with representatives and/or taking a tour of the facility, you have the opportunity to see firsthand how they operate the business, the level of fiscal responsibility, the culture of the non-profit, and the passion shared amongst the staff and volunteers.
Utilize Charity Navigator. Charity Navigator is an exceptional tool to utilize to learn about the level of fiscal responsibility by those managing the non-profit. They analyze and compare to similar non-profit sectors how each organization performs in the following categories: impact and results, accountability and finance, culture and community, and leadership and adaptability. Charity Navigator also provides several donor resources from how to donate to a charity, strategies for making donations, how to maximize year-end giving, questions to ask charities before giving, how to volunteer your time, etc.
As you maximize your year-end giving and look into next year as to which charities to support, make sure to utilize tools that are available to you to ensure your generosity is being utilized to its full potential.