Shopping for the holidays is booming and so are scammers! They are prepared and eager to profit from all those online sales. Remember to practice internet safety when participating in the seasonal shopping frenzy. A pound of remediation will never be worth an ounce of cybersecurity prevention. Additionally, it can keep you out of a privacy or financial catastrophe. Here are a few of the most important security tips you should know before doing any online holiday shopping.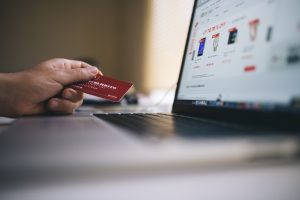 Before You Order, Check For Device Updates
Older software makes computers, tablets, and cellphones vulnerable. It will keep you safer, even though you might not want to wait through a 10-minute iPhone update. Hackers frequently take advantage of holes in the operating systems of devices. Fixes for known vulnerabilities are installed by updates, which lowers your risk. Before using your device for online Christmas shopping, make sure to install all updates.
Avoid Online Shopping When Using Public Wi-Fi
When you connect your device to a public Wi-Fi network, you should prepare for a cybersecurity stalker. Hackers will congregate at well-known hotspots for public Wi-Fi throughout the holiday shopping season. They monitor the actions of other devices linked to the same public hotspot. They could have access to everything you type through this such as credit card numbers and passwords. Never conduct online shopping while using a public Wi-Fi network. Turn off Wi-Fi and switch to your cell carrier's connection instead.
Use A Wallet App If Possible
Any time you provide your debit or credit card to a website, there is a risk involved. If you're buying for the holidays on a website you haven't used before, the risk is significantly greater.
When purchasing, use PayPal or a wallet app. By doing this, you can avoid giving the seller your payment card information directly. As an alternative, you send them to the wallet app (Apple Pay, Google Pay, PayPal, etc.) and the merchant is paid but does not receive your credit card information.
Keep An Eye On Your Accounts
If you see any strange activity on your credit cards or bank accounts, notify the provider immediately. Additionally, it's a good idea to frequently evaluate the settings on your online accounts and change your passwords to obscure combinations that are difficult to crack.
Keep An Eye Out For Emails And Texts Impersonating Brands
Scammers that use phishing were highly active during the 2021 holiday shopping season. Even though phishing must always be avoided, it is more dangerous around the holidays. Attackers are aware that consumers anticipate emails from retailers about Christmas sales. Around this time of year, they also receive a ton of order confirmations and shipment notifications. These emails serve as templates for hackers. They mimic companies like Target, UPS, Amazon, and other well-known names. Their emails closely resemble authentic ones in appearance. They use deception to persuade you to visit a malicious website and/or log in. Be on the lookout for emails that impersonate brands. This is yet another argument in favor of visiting a website directly as opposed to through an email link.
Conclusion
While there will always be hazards associated with online holiday shopping (or anything else you do online), you can definitely cut back on them. You can increase your chances of enjoying the holiday shopping season if you follow the above-mentioned security tips. The most important thing to be aware of is the websites you are purchasing on. Make sure the link in your web browser has the small lock at the beginning of it and only shop at trusted websites. Enjoy the season!